The testimonies coming forth from the recent Online Prayer Conference with The Healing School have not ceased yet! With so many expectant hearts joining together to see the incredible work of the Lord take place, He is surely faithful to move!
People from around the world tuned in on their devices to take part in this miraculous prayer conference. The Healing School with Pastor Chris has made a way for the Holy Spirit to do what only He can do, as the Spirit of God ministers on the earth in the lives of those who love and believe Him.
Often times, people may wonder if God always heals or if only sometimes He does, and why. There are so many things that we will not know until we will stand before Him in heaven and ask such questions. However, it is sure that He is able to do whatever He pleases, and He will use whatever and whoever to do it.
Man of God, Pastor Chris Oyakhilome has made a way for the healing power of God to be released over all who are in need. He is our great leader of faith who causes us to stretch our minds and trust that God is able to do all things for those who love Him and call on Him out of pure hearts.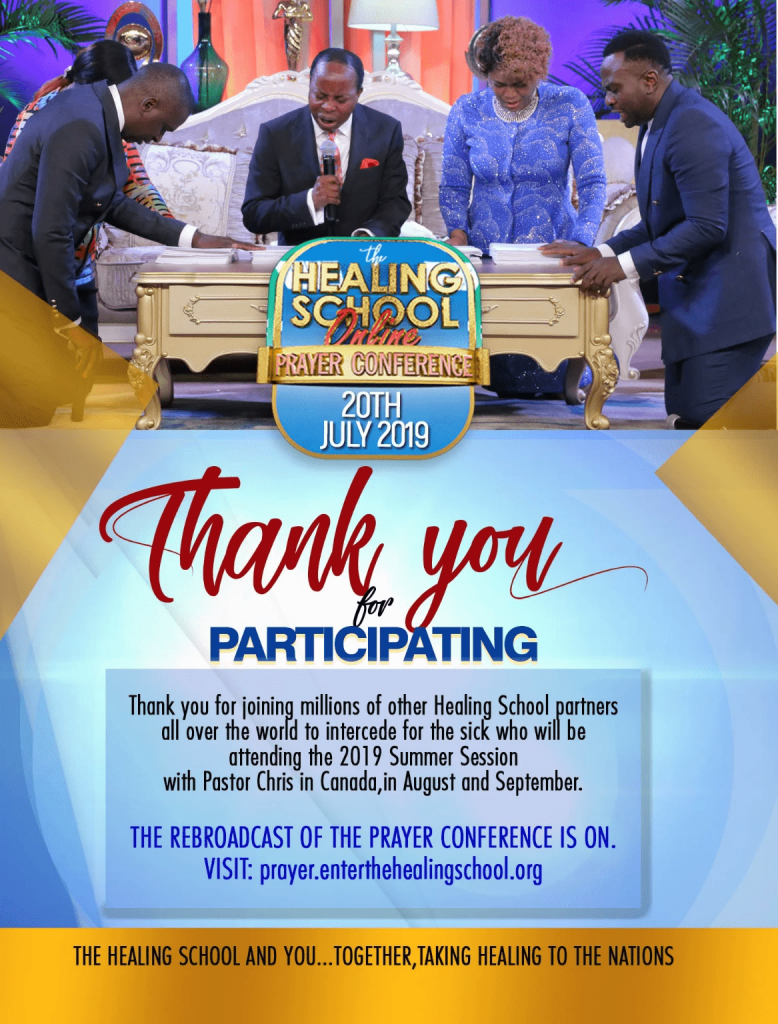 For the scriptures say in Romans 8:28,
"And we know that all things work together for good to them that love God, to them who are the called according to His purpose."
Several testimonies have been shared on The Healing School SuperUser on KingsChat along with photos of participants and viewers tuning in around the world. The Lord is blessing the hearts that come in expectation to receive from the healing power of the Holy Spirit and we are blessed to witness the work of an incredible God.
Hayford from Canada says:
"Glory to God! My brother-in-law had a partial stroke and was unable to help himself for some months now. HE COULD NOT DO ANYTHING FOR HIMSELF. He is moving around now, he looks different, he is fully healed now, it's like magic. Glory to God!!! Thank You Pastor Chris and the Healing School."
Ngomane from Bahrain says:
"On the 1st of July, I woke up with a sore pimple on my right breast. It has been very painful. It has been bothering me and  I have avoided going to the doctors because I knew the result will be too negative for me to handle. Today, as we were praying for other things, I discovered that the pain has stopped and the lump has disappeared. Glory to God! Thank you, Pastor Chris."
Sir. D. Amar from Malaysia says:
"I am completely healed of a heart condition and clots that almost led to a stroke. The heaviness on my left side is gone, pain in my chest has disappeared. Thank you Pastor Chris. I love you"
Ademola from Nigeria says:
"My elder sister had fibroid. It was so obvious and it made her abdomen to protrude. This has prevented her from doing so many things including getting pregnant. She went to the washroom during the program because she was feeling hot sensations in her stomach. The fibroid came out!"

The miracles don't stop there! Allow this to be only the beginning of your witnessing of incredible miracles take place in the name of God. Stay tuned for the upcoming Healing School Summer Session that is scheduled to take place in Canada for two sessions, spanning the month of August and into the beginning of September.
If you want to see more of the power of God taking place at the upcoming Healing School Summer Session, be sure to pre-book, as spaces are limited and spots will fill. You can register here!