There is a phenomenon sweeping through the world that is as old as time. The discussion surrounding religion has never gone away, really, since the very beginning. And now, for the first time since discourse in faith and spirituality has been reported on in history, the Millennial generation has a lot more to say than what has been seen amongst young people ever before.
Recently, Barna paired up with Alpha USA to produce a new report titled Reviving Evangelism, which takes an impressive look into both Christians and Non-Christians alike and their experiences and expectations of 'faith-sharing'. It has been suggested that the cause of this is the great diversity within young people groups than ever before. However, according to the recent study, the millennial generation possesses a deeper interest and curiosity in spirituality, leading them to find the truth in the Gospel of the Christian faith.
During the study, Barna defines "practicing Christians" as people in strong agreement that faith is a pillar and necessary aspect of their lives and attend church at least once a month. "Non-Christians" is defined more generally as people identifying with a faith other than Christianity or having/practicing no faith at all.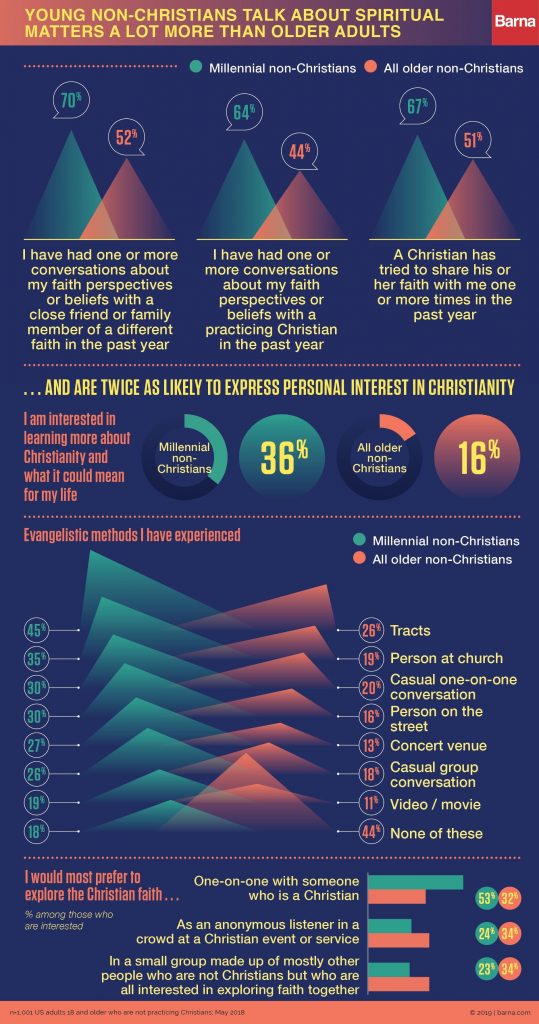 Additional studies have been incorporated in this report showing the level of interest amongst Christian Millennials to share their faith with others and within their peer groups of Non-Christians. With more diversity, there is more acceptance and tolerance necessary for harmony, unity, and the sharing of ideas. So, why is it that as the world becomes more accepting of all truth, the millennial generation is showing more of a connection to the Christian faith specifically?
The study focuses on the discourse surrounding spirituality and how young people maneuver through this conversation. Amongst more than half of Non-Christians, where discussion and expression of spirituality have become more commonly accepted than ever before, the preferred conversation most commonly welcomed is a one-on-one explorative encounter with a practicing Christian. Interestingly, only one-third of non-Christians from any earlier generation prefer speaking one-on-one with a Christian.
An important observation is the spiritual/evangelical encounters that show to be much more frequently in occurrence amongst non-Christians than ever before. According to the findings from Barna, they state "Millennial non-Christians are much more likely to have had one or more conversations about faith than their older counterparts and are twice as likely to express a personal interest in Christianity (26% vs. 16%)." You can see many of these changes on the infographic below.
What does this say about Millennial Christians today? The time is now for the Church to call out the nay-sayers and to face the unbelievers in the world with the Truth of the gospel of Jesus Christ. Perhaps these studies confirm the true attractiveness found in a life that can be lived out for God and His purposes. Join us in praying for our young faith warriors and the upcoming generation to be passionately leading others to the hope that is only found in Jesus, the one Truth and Way to God.