If you are looking for an uplifting, entertaining new podcast and you're overwhelmed by the ostensibly endless list of options we here at Good Christian Chat have an app that offers great content. Meet Edifi, an app that centralizes many of those inspiring channels for your listening pleasure.
Edifi gives you easy access to today's most popular Christian podcasts all in a single app.  experience you can trust. Edifi's powerful app aggregator offers very Christian-orientated streaming audio, including thousands of podcasts all in one place.
If you are a fan of a certain Pastor or enjoy searching for fresh inspiration, Edifi makes it easy to listen to your favorite theologians, Bible teachers, Christian authors, Christian musicians or other podcasters. Edifi makes it easy to discover new favorites, from up-and-coming pastors to chart-topping musicians.
Tried and trusted team
These are compiled for you by the squad of knowledgeable journalists, ministry leaders, and pastors involved with  The Christian Post. This paper has been one of the leading Christian news sources for more than 15 years. With that in mind, Edifi is an uplifting, free new app you should download.
In Romans 10:17 we learn that "faith comes by hearing, and hearing by the word of God." Edifi uses the latest technology for an easy user listening experience with the purpose of furthering the Kingdom of God. "For the earth will be filled with the knowledge of the glory of the LORD as the waters cover the sea." (New International Version, Habakkuk 2:14)
What features can you find
Edifi gives you access to 2,000,000 edifying and engaging programs including Bible Study podcasts, News Podcasts, Women Podcasts, Leadership Podcasts, Lifestyle Podcasts, Christian Music Podcasts on your Android and Apple devices.
Sermon & Devotional: Dr. Tony Evans, Joyce Meyer, Greg Laurie, Joel Osteen, Rick Warren, Charles Stanley, Max Lucado, John Piper, Louie Giglio, Tim Keller, Andy Stanley, Bishop T.D. Jakes, Martyn Lloyd-Jones
Bible Study: Pray Every Day, SearchLight with Jon Courson, The Bible Recap, Bible Study Evangelista Show, The Scripture Study Project
News: The Briefing – AlbertMohler.com, Wally Show Podcast, Footnotes with Jemar Tisby, Washington Watch, Lecture Me!
Women: The Messy Table with Jenn Jewell, Surviving Sarah, setapartgirl, The Healthy Christian Women Podcast, The Carrie On Podcast w/Carrie Lloyd
Leadership: The Emotionally Healthy Leader Podcast, Making Disciples with Robby Gallaty, The ChurchLeaders Podcast, BAttle Ready with Erwin & Aaron McManus
Lifestyle: By Faith with Christine Hoover, GRACEOLOGIE with Gwen Smith, Your Best Beautiful Life, Out of the Ordinary, The Turquoise Table Podcast with Kristin Schell
Christian Music: Michelle Nezat, WorshipTogether.com, K-Love, Sounds From The Family, Hillsong, Chris Tomlin, Tobymac, Lauren Daigle, Kanye West
Audio Bible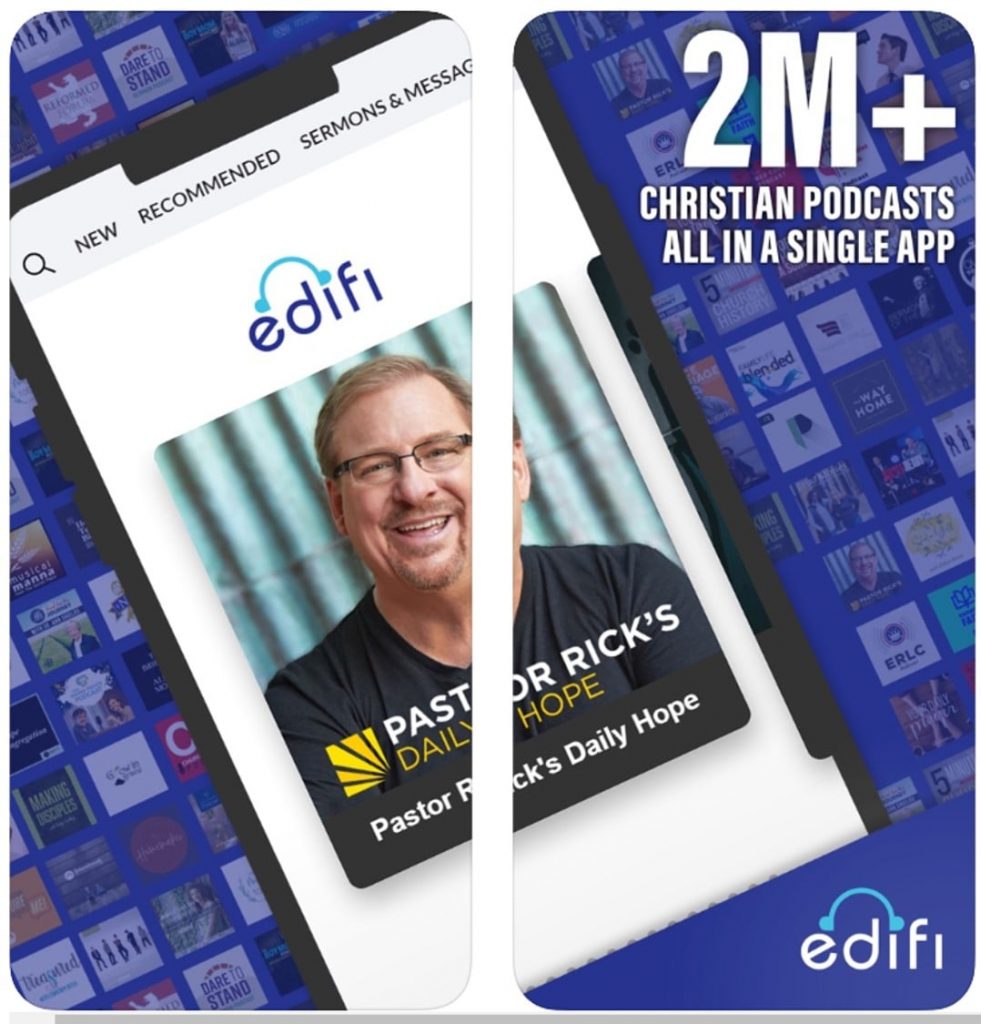 Why choose Edifi?
If you love to listen, learn, or be entertained, Edifi lets you do that and grow your faith at the same time. It's a great way to start the day. You can flip to your favorite channels during your daily routine to make the most out of every moment. Use it to unwind at the end of the day with a story or meditation.
Download the Edifi mobile app on Google Play and the Apple App Store for free.