The most highly anticipated gathering for International Christian youth is taking place in Manila, Philippines THIS WEEKEND, August 8-10. After months of planning, praying, and preparing the moment has finally arrived for so many young people to truly lift off in their faith. The Jesus Global Youth Day is meant to call forth young leaders to begin walking in their calling, as the Spirit reveals new gifts and strengths to the next generation.
With such a large gathering of international youth, this could be a moment that will be marked in eternity as the spiritual release of the future generation. In addition to the youth coming together from around the world, artists, speakers, and ministers will also be participating in the event from a variety of different styles and genres.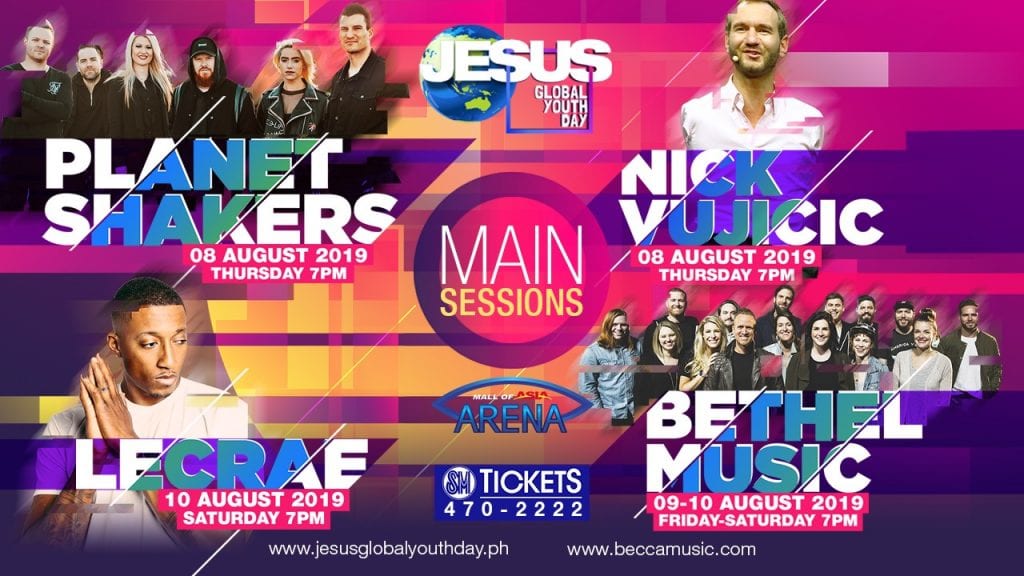 Throughout the weekend, there will be sessions and teaching available for youth leaders and pastors to take effective models for youth ministry home with them. This event has endless resources to offer and you can even stream the whole thing live at a church near you. Thousands of local churches are hosting youth events for the viewing of this conference. You can be truly ministered to in the midst of friends and pastors, without even going to the Philippines.
The Jesus Global Youth Day has an incredible lineup! Speakers include Nick Vujicic, Stephen Baldwin, Metropolitan Hilarion Alfeyev, Samuel Dhinakaran, Dr. Paul Enenche, Pastor Russell Evans, Nick Hall, Pastor Matts-Ola Ishoel, Pastor Jason Lozano, Ron Luce, Bryce Manderfield, and Bishop Opoku Onyinah. These speakers, pastors, actors, bishops, and doctors are coming together from around the world with one thing in common – the call to speak about the transformational power of Jesus Christ.

Not only is there magnificent teaching planned, but international worship leaders have also traveled from all over to lead thousands of youth into the presence of God. While some worship leaders are more well known than others, each comes with their own style to speak to the heart of every nation, tribe, and tongue that will be represented. The worship lineup includes Bethel Music, Planetshakers, Lecrae, Austin and Lindsey Adamec, Sheldon Bangera, Miel San Marcos, and Joe Praize.
Check out this music video of the official theme song, "Worthy" for Jesus Global Youth Day by Austin and Lindsey Adamec:
The youth of today are the leaders of tomorrow. No matter what age you are, God needs you in the building and strengthening of His kingdom. Join us in praying for the Jesus Global Youth Day this weekend, and for the global youth movement as young leaders begin to rise up to lead our future. For more information about the conference, please visit the Jesus Global Youth Day website at www.jesusglobalyouthday.com/