The International School of Ministry is making a global impact and it wouldn't be made possible without the prolific resources out there today. With extensive internet capabilities that are readily accessible, ministries are able to promote the gospel and study material at an unprecedented rate. This month, tune into the International School of Ministry for enriching training. Whether you are in the position of leadership or just interested in strengthening your impact in the world, the International School of Ministry has everything you will need to achieve supernatural results in your life.
Check out the upcoming events at ISM:
Compressed Ministerial Online Study Program
This 10-day Compressed Ministerial online training/study program is designed to help church pastors, leaders and ministry workers grow in their calling. This is a special opportunity to focus on your ministry and what God wants to do through you in order to reach others. Through study materials, real testimonies, teaching and more, the ISM will equip you with everything you need in order to serve God with new powerful wisdom and revelation.
This online event will take place from Monday, September 23rd until Thursday, October 3rd, 2019. Be sure to register at the link below for this ministerial training you do not want to miss!

September International School of Ministry (ISM) Webinar
This webinar is meant for all believers seeking to make a quantum impact for the gospel at any and every level. Whether you love sharing your faith or you are in need of encouragement and strength in doing so, this webinar brought to you by the International School of Ministry is the answer to your prayers!
The webinar will be hosted by the Director of LoveWorld Church Growth International, Pastor Lanre Alabi. You do not want to miss this elevating teaching on Thursday, September 26th, 2019 at 4 PM (GMT +1) for the ignition of soul-winning.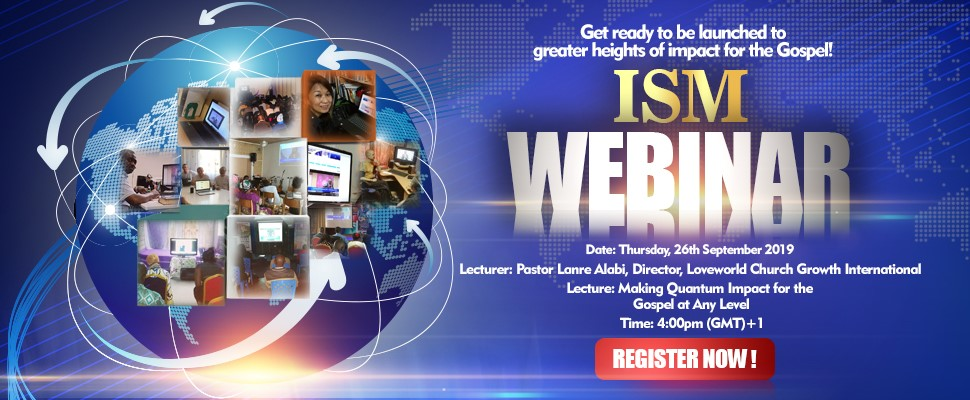 Each of these opportunities is completely free of charge! All you have to do is register HERE with the International School of Ministry and you will be included in outstanding teaching from wise ministers and lecturers on topics from sharing the gospel to living it out. Gather together with hundreds of gospel lovers from around the world on one platform and witness the transformation that will take place in the world.
Good Christian Chat is all about utilizing technology to learn and grow in Christ. Take this opportunity to connect with other passionate soul-winners and experience yourself take on the newness of faith as you tune in from the comfort of your own home.
For more information, email info@Christembassy-ism.org and don't forget to follow the International School of Ministry on KingChat!