In the world today, we have constant notifications and updates coming our way, clouding us with so much information that has to do with other people and what they are doing.  When do you even find the time to check in with yourself, and see what God is doing in your life? Of course, we need to be reading scripture and stay in our Bibles daily. But if we are honest with ourselves, this becomes hard to prioritize, the busier that life gets.
Looking around at our generation today, everyone is desperate for some kind of sign or message from the universe or another higher being. As Christian's, we receive the Word of God and must allow God's voice to be the one that speaks to us! Through this great devotional from Oswald Chambers' ministry, "My Utmost for His Highest", you will be reminded of powerful truth and encouraging challenges day in and day out. The Word of God is so powerful and often, we miss out on its powerful effects in our personal and daily lives because we are simply not listening. This app brings you right into the deeper moments of understanding and reflecting on God and who He is, and whom He says you are.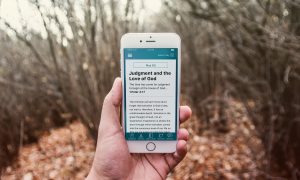 Whether you are going through a trying time or feeling like you are on a spiritual high, God has something to say to you! These devotions are short and simple to read, leaving you with a lot to think on through the rest of your day, as the Holy Spirit opens your heart to bring greater understanding and revelation to your reading. Included in each devotional, is a reading plan that coincides with the devotions, called "Bible in a Year". Whether you made a goal to read the bible every day, or a New Year's resolution to read from Genesis to Revelation this year, this is a great way to stay on top of that!
You may be surprised to open the application some days and feel the words pierce your heart and speak directly into your situation. The wisdom of God that Chambers shares through each page of his devotionals is applicable to all of our lives and you can even take part in conversations and discussions with other believers following along with the devotions and daily readings! As well as following the pre-set reading plan they include in each day, you can also set up your personalized reading plan to follow, for your pace and preference. So, next time you are waiting in line at the store and feel like taking your phone out to pass the time by seeing what your friends are doing on Facebook, check in with God and what He is up to!