VeggieTales Returns to TBN
We have all heard of the success stories that begin in the garage, a college dorm room, or perhaps by complete mistake. In Phil Vischer's case, there was no mistake at all. Vischer, along with lifetime friend, Mike Nawrocki, recognized a niche in the entertainment industry to cater to children in a faith-centered context. With financial backing and support from friends and family and a home PC, Vischer and Nawrocki began to create the Christian cartoon series that we all know and love, VeggieTales. This year marks the twenty-fifth year since the first episode debuted. The world has since grown to love the silly and fun songs and the Bible storytelling vegetables.
It seems that the VeggieTales brand found its place in the world of Christian television and entertainment before the world knew there was a place set out for them. With a slow start in the beginning, sales began to grow and it was only a matter of time before children everywhere would be singing the silly songs performed by dancing vegetables for years and years to come.
After selling tens of millions of videos to Christian families around the world, VeggieTales grew exponentially in success and recognition. In 2002, our friends Bob the tomato and Larry the cucumber hit the cinemas in their first major motion picture, "Jonah: A VeggieTales Movie." With the industry growing and becoming always more accessible to the users, companies like Netflix and Universal have joined the VeggieTales team of writers and producers to create content for the brand. These partnerships were the strength of Vischer and Nawrocki to continue pressing on after Vischer's own production company, Big Idea Productions was bankrupt and sold.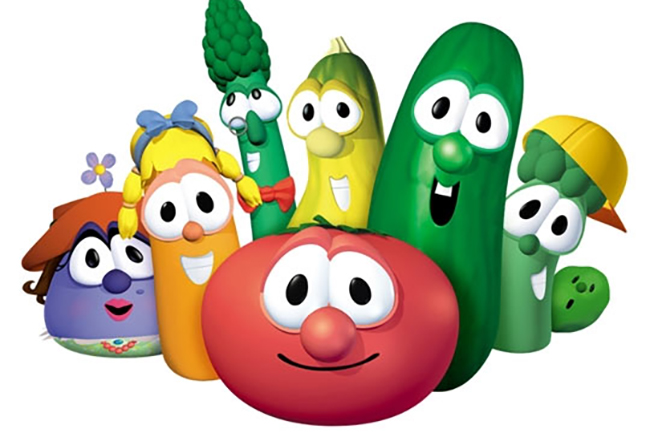 While these larger companies continue to air, or stream the VeggieTales series, Vischer officially moved on to other things in a similar direction in 2015. He has since created a podcast called The Holy Post and has continued in his expertise of making Bible story videos for children – hold the veggies.
What's next for VeggieTales? There are many exciting things on the horizon for the series, as well as for their consumers. The world saw how loved these little animated vegetables are and no one is ready to say goodbye just yet! Thankfully, we don't have to. Internationally known, Trinity Broadcasting Network (TBN) has signed with the program for nine brand new episodes that will begin airing in correlation with Christmas, with releases throughout the first half of the 2020 year.
The new series is said to be created according to all the original format, as we have always know the show and characters. According to World Religion News, the long-lasting success of this faith-centered and adored children's series is to reach over a hundred countries through TBN in 14 languages, making it one of the most accessible networks for religious television.
To celebrate 25 years of VeggieTales, Aaron Wilson, of LifeWay's Facts and Trends column, brings you 25 INTERESTING THINGS YOU NEVER KNEW ABOUT VEGGIETALES. You can check that out here: https://factsandtrends.net/2018/12/07/25-interesting-things-you-never-knew-about-veggietales/